After 14 months abroad, or to be more precise after living and studying 6 months in Argentina and travelling 8 months around the globe, my world-trip finally has come to an end. From Benin I accomplished the last challenge and went to infamous Lagos, where my flight to Frankfurt (via Doha) left. Despite all horror stories about dangerous Nigeria, I managed to survive my granted 72 hours of transit and eventually boarded the plane alive.
Okay, to be honest Nigeria has been the country where I felt less secure, actually corruption was most visible here. At the border crossing, I "offered" in total 2000 Naira (~ 10 €) to several officers in order to smooth out and grease the gears. Yet being polite and friendly, and smiling, laughing or making jokes with the officials was at least equally important. Due to fuel smuggling, once on the road you see much more burned cars than in an average Parisian banlieue. Probably every kilometer, countless police checkpoints are on the way, and the taxi-drivers have to pay bribes to dubious soldiers who use a frightening amount of weapons: modern snipers or riffles, shotguns, bats and even golf clubs. Sometimes one of them wanted to check my bag – packing my dirty underwear on top resulted to be quite dissuasive and their interest vanished as quickly as it had come. But thanks to the high number of generators (power cuts are extremely frequent here), in Lagos I also had the first hot shower since I left Zambia three weeks ago, and I kept on being the superstar. On my flight there were many Africans, lots of Asians, a few Indians and one European: that was me.
I departed on the 10th September and changed planes at Doha Airport, the most artificial and superficial site I have ever seen. I flew mostly at night (surprisingly on the luxurious Boeing 787 Dreamliner), so I landed at Frankfurt on the 11th September – no terrorist attack nor Chilean putsch this year – and I arrived safe and sound to Germany. The place where the whole adventure had begun more than one year ago welcomed me grey and rainy, which fitted perfectly to my similar mood. Still being conditioned to be especially careful with respect to fake money notes, my first memorable action was to suspect the woman at the exchange office to give me a false 5 € bill (as I had never seen the recently introduced "new" version before). Oh, and soon I was shocked that now I have to pay 1.80 € for a single tram or bus journey through "Darmstadt Innenstadt".
It is hard to find the words and describe my feelings, everything is kind of surreal. Being away for such a long period, changing your bed every three nights, never having a real "home" (okay, actually I had one at my pension in Argentina and I miss my brothers and sisters there) …. I will surely need some time to settle down and to find new routine and order for my life. It still feels unreal, strange and a bit alien to realize that at least for the next two years I will now live in the same one house and that I will have to study again in order to finish my degree (what a weird, stupid idea!).
I would like to thank each single person who has made this experience an extraordinary one. Whether near or far, may you be family relatives, friends, travel partners or unnamed acquaintances met along the way, all of you are a part of this big puzzle that magically fits together and considerably shaped my personality. I am eternally grateful for that and hope to see you again – no matter when or where – each part of the world could be a welcomed opportunity to discover something new ….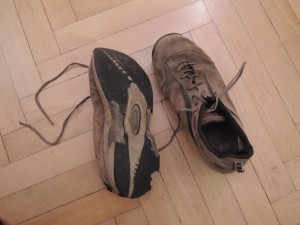 My loyal travel companions from the whole trip are pretty exhausted at the end of such a long journey, and deservedly so!