So finally that's it. Tomorrow I'll leave my beloved Tandil towards Buenos Aires, then I'd like to see the Cataratas del Iguazú and later I will hopefully travel to the Provincia de Salta ….
Thank you very much everybody for having made my exchange semester to such a wonderful experience with innumerable memories I won't ever forget. I will definitely come back to visit you and your awesome country!
Chicos, no puedo creer como el tiempo pasó tan rapido, pero mi intercambio en Tandil ya se acabó y hoy es mi última noche en esta ciudad tan buena …. MUCHISIMAS GRACIAS a todos por todo: venir a Argentina siempre fue un sueño mio pero nunca me hubiera imaginado que iba a tener una experiencia tan hermosa, sobre todo con ustedes en la pensión. Sinceramente encontré un lugar donde me sentí como si fuese "en casa", viviendo con una familia. Espero que tuvieran también un tiempo lindo, la verdad que yo la pasé barbaro. Jamás los olvidaré y los quiero mucho. Tengo que irme pero una parte de mi corazón se queda acá, y estoy seguro que volveré pronto. Les deseo mucha suerte, que les vaya bien y hasta luego. Abrazo grande!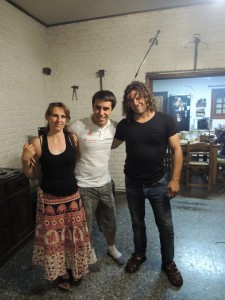 Marisa y Marcos, no sólo dueños sino más padres de la pensión – les agradezco por todo y a ustedes los voy a extrañar muchísimo

Continue reading →